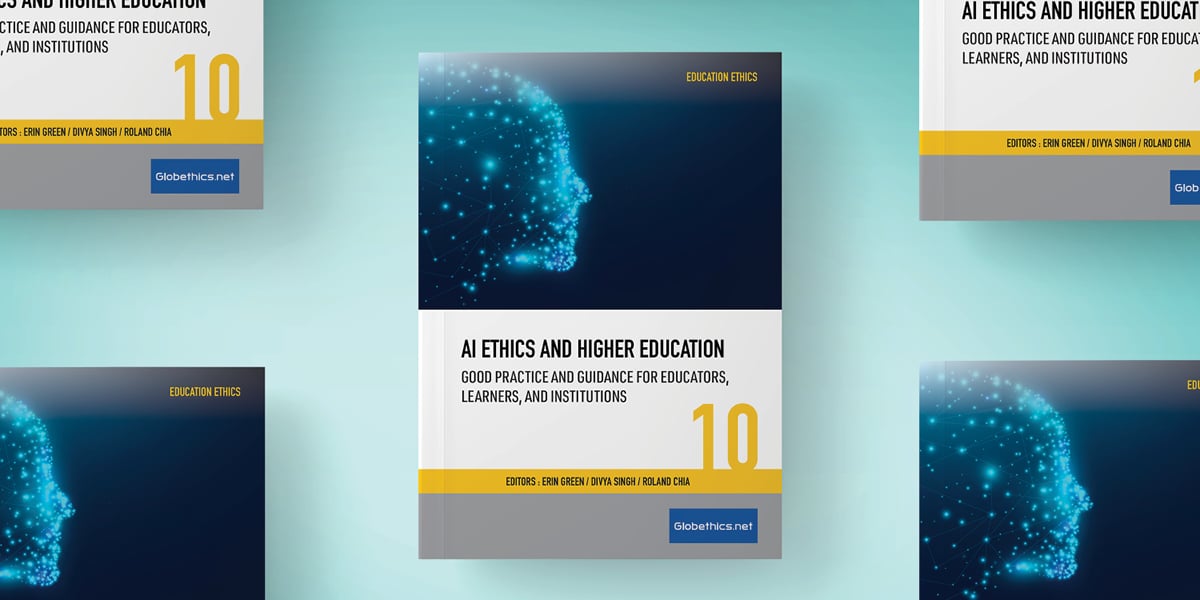 The use of artificial intelligence (also referred to as AI) in higher education promises both power and peril. The prospect of providing "just in time" and "just right" learning resources offers the hope of effectively scaling education — especially for those who have been historically underserved. But the threat of AI being misused or overused may foster fear which could obliterate the opportunity.
I am pleased to announce that I was offered the opportunity to provide a chapter to a recently published book titled, AI Ethics in Higher Education: Good Practice and Guidance for Educators, Learners, and Institutions.
Take a look at the video below or keep scrolling for a highlight of what was covered in the chapter. You can also download the book by clicking here.
Video Overview:
About the Book
The opportunity for SmarterServices to make a meaningful contribution to the book was offered by one of our clients, Dr. Divya Singh.
Dr. Singh serves as the Chief Academic Officer of Stadio Holdings which manages three higher education institutions in South Africa providing over 90 accredited programs to over 30,000 students. Since 2019, Stadio has utilized the SmarterMeasure Learning Readiness Indicator as a student service for its incoming students. Through this collaboration, Dr. Singh recognized the expertise and experience that we have in utilizing AI to assess and monitor assessments taken by students.
One of the reasons I was excited about this project was that it was a collaborative effort of many persons representing multiple perspectives. As is stated in the preface, "We have brought together contributions from researchers who understand well both the technical aspects of AI and related digital technologies, but also draw on their expertise as ethicists, educators, philosophers, lawyers, theologians, and more."
My background provides me with both a personal and professional interest in the topic. I hold an undergraduate, graduate, and professional degree in theology. I also hold a doctorate degree in higher education leadership. My experience includes serving as a Dean of Distance Learning at two institutions and founding a company that has collaborated with clients from over 1,000 institutions. This project was a perfect opportunity to combine my training in ethics, education, and entrepreneurship.
Artificial Intelligence in Education
The chapter I provided is titled, "Fear of Using AI in Virtual Proctoring: Your Institution May Have More Control Than You Realize." I begin with references to Hollywood blockbuster movies that have proliferated the fear of AI. The consistent theme in these movies is that AI becomes more intelligent than the humans who created it so therefore we should fear and restrict AI. While this plot makes for a great movie, does it need to influence our perspective of AI in education?
In the context of AI-powered exam proctoring, these fears can be mitigated by understanding what the AI is monitoring. The chapter breaks this down into facial, vocal, and screen monitoring functionalities. I then define how persons at the institutions (instructors, instructional designers, and/or administrators) can be in control over these monitoring functions. The levels of control are discussed at the enterprise, exam, and student levels.
Proctoring Modalities that Can Help
Since authoring this chapter, SmarterServices has developed a new virtual proctoring modality that can further appease some of the fears of AI-assisted proctoring. This new modality is called Hybrid Virtual Proctoring. One of the most expressed fears of the use of AI in proctoring is that a machine is going to falsely detect cheating and fail a student.
Using SmarterProctoring, this could never be the case since even with fully automated virtual proctoring the AI only detects and reports potential testing anomalies. It is always the instructor or an appropriate person at the institution who makes the decision regarding academic integrity violations. To ensure that this human is inserted into the decision-making loop as soon as possible, while the test is still being taken, we now provide Hybrid Virtual Proctoring which allows someone from the institution to be the virtual proctor who monitors the testing anomalies reported by the AI. These persons could be testing center employees, eLearning staff, teaching assistants, or the instructor. They are empowered to intervene and stop the assessment if they, not the AI, determine that cheating is taking place.
Empower Yourself with Ethics
Finally, I must acknowledge the efforts of Globethics.net who published this book. They are a global network of teachers and institutions with the vision to embed ethics in higher education. They strive for a world in which people, and especially leaders are educated in, informed by, and act according to ethical values and thus contribute to building sustainable, just, and peaceful societies. They achieve this through a global digital ethics library with over 3.7 million documents, professional development through online and offline courses, a global network of experts, and finally their own publishing house which has released over 150 publications.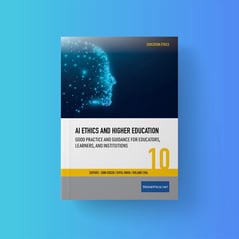 Continue Learning: Download the Book!
For a free digital copy of the AI Ethics and Higher Education book, click here. I trust that this resource will be informative and influential.