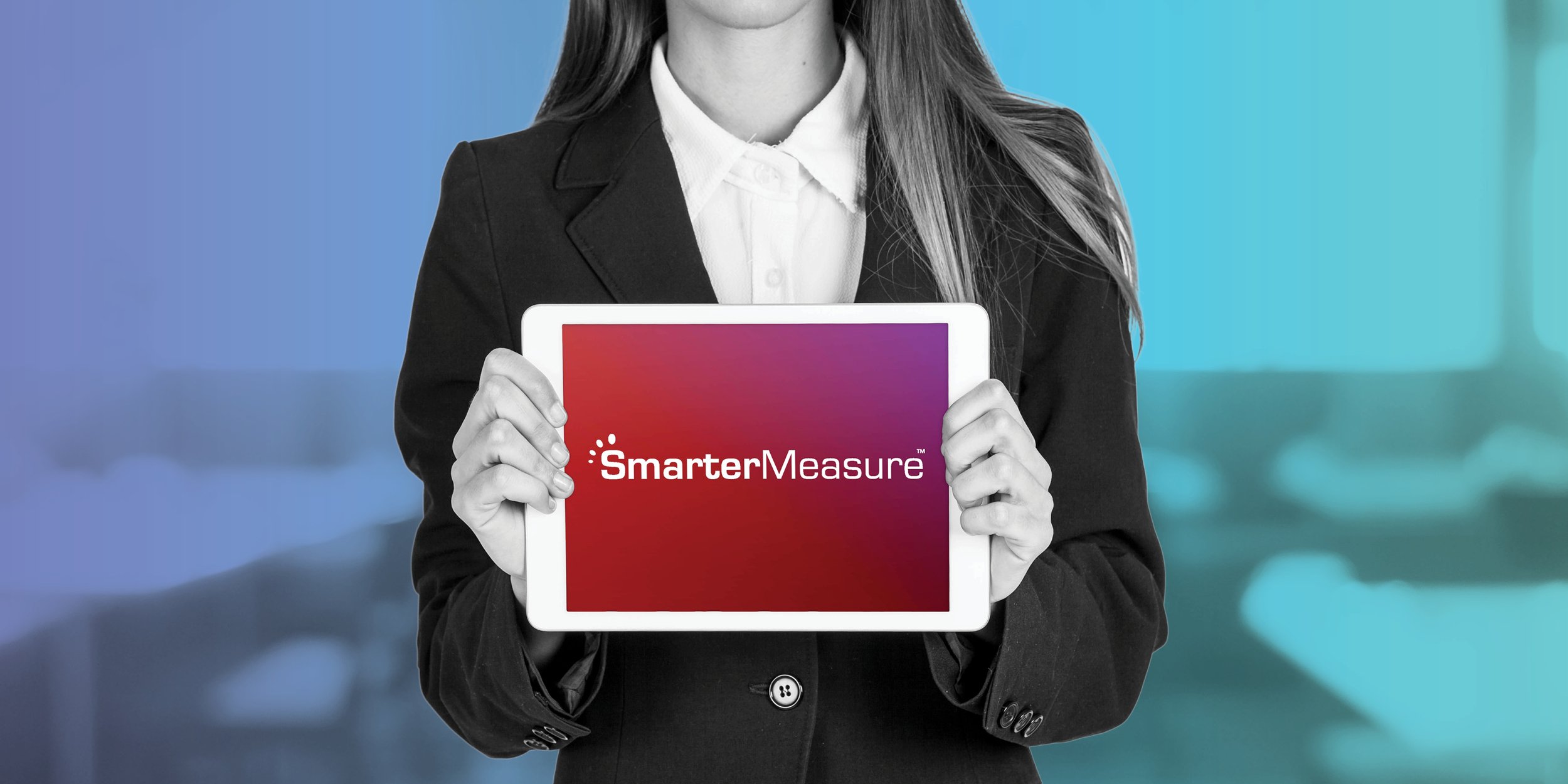 Since 2002, over 7.5 million students have learned about their level of readiness by taking the SmarterMeasure Learning Readiness Indicator. Over 1000 institutions have used the assessment to equip advisors, counselors, admissions officers, and faculty to have informed conversations with their students that foster learner success and retention.
One of the questions that we are frequently asked by schools that are considering adding the assessment as a student support tool is where in the student experience should they position it. In this blog and video, we will review the most common ways that schools implement SmarterMeasure. Additionally, click here to download our free resource on topic.

We coach our clients by saying there is no right or wrong place to position the assessment, but that there may be optimal locations in their student workflow. We collaborate with schools to learn about their processes and existing tools to recommend an optimal placement. In addition to the content provided in this blog, if your school would like to have a conversation with us about the lessons we have learned in working with hundreds of schools, just let us know and we will be glad to schedule a call.
The most common places that we see the assessment positioned are (1) in the admissions process, (2) as an assignment in an orientation course, (3) as a part of a first-year experience program, (4) as an element of a Quality Enhancement Program, and (5) integrated into a course such as student success course. Let's explore each of these options more closely, including examples of institutions using each model. We will also provide you with a contact person at each institution whom you can reach out to for more information.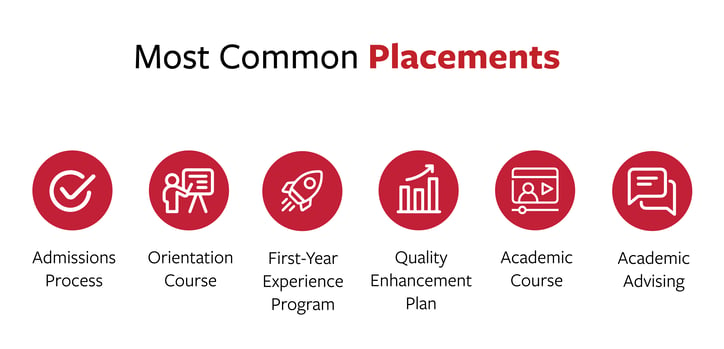 Admissions Process
Some schools, such as Miller Motte Technical College, position SmarterMeasure in the Admissions process. When schools do this, they are careful to explain to students that the assessment is not a gatekeeper, but a tool to help the school get to know the students. If students perceive the assessment as a barrier, they might be more likely to "game" the assessment by giving the answers they think the school wants to hear. But when schools explain that SmarterMeasure is just one of several assessments and surveys that they ask incoming students to take this clarifies the student's perception.
SmarterMeasure is not designed as a tool that schools would use to screen-out students, but rather as a tool to enlighten students about their strengths and opportunities for improvement as well as to alert schools to students who may need additional support to be successful.
When schools position SmarterMeasure in the admissions process then typically someone in the Admissions Office will register the applicant to complete SmarterMeasure. Upon admission, a student success advisor or instructor will follow up with the student about their level of readiness and what the school can do to help the student be successful.
Someone at Miller Motte you can reach out to about this implementation is Stephenie Nadeja, who serves as the Manager of Academic Programs.
Orientation Course
One of the most common places to position the assessment and my personal favorite location is in an Orientation Course. Dr. Cindy Parker, Vice President of Online Education at Johnson & Wales University would be glad to speak with you about how they have integrated SmarterMeasure into their Orientation Course. They task every accepted new student to take SmarterMeasure as a part of their checklist.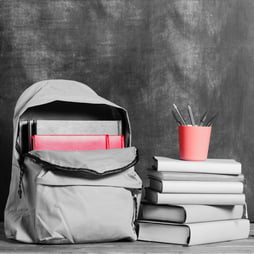 The general tone of an Orientation Course is one which welcomes the students to the institution and shares the student services that the school offers to help them be successful. This context is a great time to ask the students to complete the assessment since it is early in the student experience, and they can be equipped with the resources that they need to get off to a strong start. The earlier in the student's journey with your institution that you provide SmarterMeasure, the sooner you can connect them with support services and strategies to be successful.
Many orientation courses have modules designed to share information with students regarding topics such as time management, controlling procrastination, seeking help from instructors, and requesting technical support. Schools have learned that when they first have students take SmarterMeasure that this then lets the student know the degree to which these topics are applicable to them.
Orientation Courses vary in length, often ranging from three hours, three days, three weeks, or up to three months. Regardless of the duration of the course, schools typically embed SmarterMeasure as an assignment in the course and then point students back to their scores as topics in the course are explored.
Also, by positioning the assessment in an orientation course the student has already been accepted for admissions so they are less likely to provide responses they think would give them an advantage over other students.
Typically, Orientation Courses have an instructor or someone facilitating the course. As is done with Middlesex Community College, their staff monitor the student's results and sends emails to those students with low scores and provides them with resources and trainings.
First Year Experience Program
Some schools provide what they call a First Year Experience Program. Often these programs are longer than an Orientation Course and may span the entire period of one's Freshman year. The programs are designed to keep students who are new to the college experience engaged so that they persist and succeed.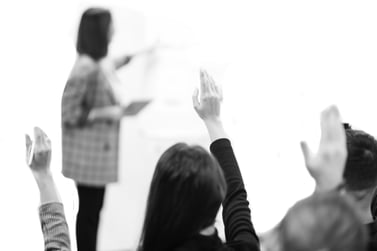 One school that positions SmarterMeasure into their First Year Experience Program is the Lone Star College System. Dr. Aaron Salas is the Executive Director of First Year Experience for Lone Star and he would be glad to tell you about how they have measured the readiness of over 300,000 students.
Since FYE programs often span a longer period of time, some institutions take advantage of the disaggregate mode of SmarterMeasure which allows students to take the assessment one section at a time. This gives the school personnel more time to reflect with the students about their specific levels of readiness in areas such as life factors, individual attributes, and technical competency.
Another school that deploys SmarterMeasure in their FYE program is Somerset Community College. After taking the assessment, they schedule students to have one-on-one coaching to set goals based on their assessment results. They have also built resources that they refer students to and provide weekly informational sessions on topics such as time management skills, study skills, mental health, stress management, and more for their students.
Quality Enhancement Plan
A Quality Enhancement Plan (referred to as a QEP) is a requirement of schools accredited by the Southern Association of Colleges and Schools. The QEP is a document that the school produces that articulates a plan for improving some element of supporting the student learning environment. One facet of student success that several schools have focused on is increasing awareness of and then supporting factors of learner readiness.
One person involved in this process is Dr. Chance Witherspoon, Director of eLearning at Cleveland Community College. The topic of their QEP is "Strengthening Online Learning." The two measurable goals of the QEP are (1) improving student success in a cohort of online courses by 7.5 percentage points, and (2) decreasing student withdrawals in a cohort of online courses by 3.5 percentage points.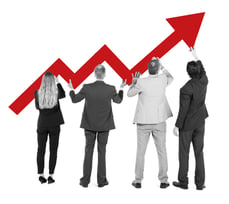 Since QEPs call for measurable objectives, SmarterMeasure is a natural fit since it provides a quantitative measure of learner readiness that can be used as a baseline to compute program effectiveness. Plus, SmarterMeasure data is easy to export for analysis in third-party software such as SPSS.
Student Success and Academic Courses
SmarterMeasure is also a natural fit within academic and/or student success courses. Dr. Dina Nielsen of Nightingale College created a New Learner Success Course for students in their first semester. As a part of this course, a counselor is assigned to each student who meets with the student to discuss their SmarterMeasure scores.
Another good example is Southern Regional Technical College. They place the assessment in the College 1500 Student Success Course in which they assign their students to take SmarterMeasure and then the following week they are assigned to take the Focus 2 Explore career planning sruvey. They then compare their results between the two instruments.
Other schools have implemented SmarterMeasure into traditional academic courses. One such example was a school that assigned SmarterMeasure during week one of an English 101 course. They then tasked the students to write a two-page reflective paper on their levels of readiness. This not only prompted the students to think about their scores, but provided an early writing sample that being personal and unique could not be generated by an AI writing tool.
Ottawa University positions SmarterMeasure in an orientation course but students then have a required Reflective Essay due where they engaged in their results. Their academic advisor then provides personalized feedback to each student and can refer them to specific resources that would be out of most relevance to each student.
The University of Arizona Online also provides SmarterMeasure as a part of their Next Steps Center. They have equipped their Success Coaches with student reports so they can have personalized coaching conversations with their students.
Other places in the student experience in which SmarterMeasure has been integrated include during the student recruitment phase, or a requirement to register for an online course.
The important thing is not so much where you give the assessment but just that you do provide students with an experience that prompts them to identify and reflect on their levels of readiness and follow that up by pairing it with resources for support that your school provides. It is very important for someone at the institution to follow up with the students about their scores.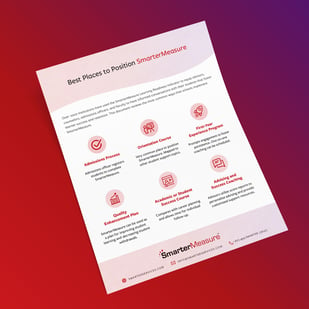 Be sure to download our free resource on the topic.
If you would like to learn more about how your school can integrate and utilize SmarterMeasure, take a look at the following case studies:
Also check out these free resources that we provide to advisors to make their conversations more personal:
Finally, if you would like to take SmarterMeasure for yourself, just send a request to info@smartermeasure.com today.