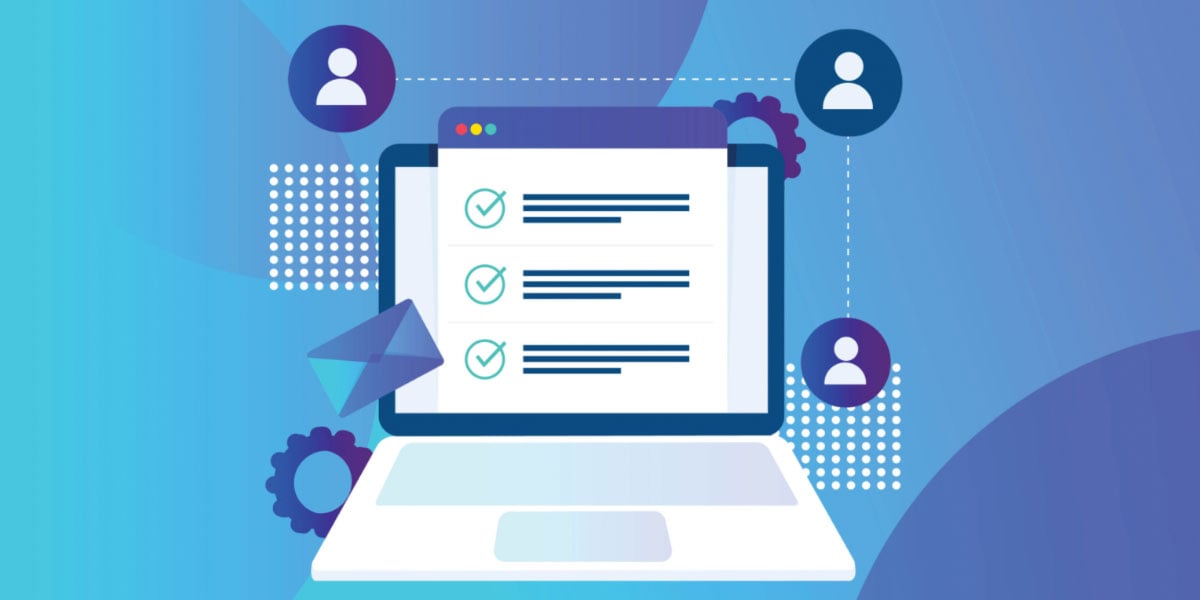 Let's talk about the challenges that many universities are facing in virtually serving students. The question everyone is asking is "How do we most effectively serve our students in this new normal?"
Over this past year we have all faced many challenges and had many discussions on topics such as students' mental health during a pandemic, telehealth, the digital divide, the fact that multiple platforms such as Zoom, Google Hangouts, Microsoft Teams, etc. has caused confusion.
In partnership with Innovative Educators, we provided a webinar around how to increase and maintain virtual student engagement. Watch the pre-recorded webinar below to learn how 3 award-winning schools, Georgia State University, Houston Community College, and The University of Arizona, created and implemented virtual student engagement programs that benefited their institutions.
Don't want to watch the webinar? Keep scrolling to read the webinar recap below.
Webinar Recap:
As we were planning this webinar, we learned about the NASPA Innovation Awards that vetted about 100 programs and identified 10 which were exemplary in providing virtual student services. We were so pleased to recognize that 3 of these 10 institutions were our current clients. In addition to the recognition, the 10 programs shared in an award pool of $255,000.
Keep reading to learn how 3 of our clients and NASPA Innovation Award winners implemented their virtual student engagement programs to increase student success and retention.
The University of Arizona
About The University of Arizona
The University of Arizona is a public land grant research one institution that was founded almost 150 years ago and is headquartered in Tucson, Arizona and Southern Arizona. They also have branch campuses throughout the state and 10 distance campus locations that are spread throughout Central and Southern Arizona. A variety of micro campus global locations are located all across the world as well.
Overall, online and hybrid learning has been part of The University of Arizona for a while, particularly through branch campus locations. However, their fully online Arizona online campus was launched in the fall of 2015.
Humanizing the Online Student Journey
One of the ways that they approach virtual student engagement is by really trying to help humanize the experience for their online students and doing that in a way that is as efficient as possible for their staffing resources.
Through this, they utilize the high-tech and high-touch combination approach to help support their students. From the high-tech side of things, they focus on:
Being able to utilize proactive nudges and intentional communication to their students
Utilizing a proactive advising model where they're intervening and helping to anticipate where challenges may occur before they happen
They also pair that though with a high-touch approach with their advising community. With this, their academic advisors (or student academic success specialists) have a reduced caseload ratio for their fully online campus students and utilize a coaching intensive model to advising. This helps them meet students where they're at and support them through their journey.
And then last, but certainly not least, it's been critical for them to assist in providing opportunities for their students to connect with each other through virtual communities. This included utilizing a Facebook group. Doing this created a private space for their online students to connect together, answer each other's questions, and for faculty members to guide and support them in a friendly, community-filled space.
Setting Students Up for Success from Day One
"When students first arrive at University of Arizona Online, it's important that we're helping to set them up for success from day one," explained Carmin Chan, Director of Online Student Success for The University of Arizona Online. "One of the ways that we do that is by utilizing a course space that we've developed and refined over the years called Arizona Online Launchpad. This is a space that's built within our learning management system."
This space is meant to be a dynamic virtual student hub for their students to help anticipate some of the common questions, concerns, or barriers that students may experience in a very user-friendly way.
"If a student is up at 2:00 a.m. trying to find financial aid information, they're not having to hunt around all of the university websites, but can come to the launchpad and find the information that's relevant for them right at their fingertips," stated Chan.
What is the Student Success and Retention Innovation (SSRI)?
Another way The University of Arizona increased their virtual student engagement is by developing a Student Success and Retention Innovation (SSRI) department.
"The SSRI department at The University of Arizona supports the academic and non-academic success of students. We are comprised of 9 units across the campus that support students holistically," explained Candace Jones, Project Manager for the SSRI department at the university.
Some of their services include:
Academic tutoring

Supplemental instruction

Individualized mentoring

Guidance on academic and career pathways

And programming opportunities, particularly for marginalized student groups, including low-income students, and first-generation college students.
For more information on what these programs include, watch this section of the webinar:
More About The University of Arizona's Launchpad
As touched on earlier, to provide students with convenient resources, The University of Arizona has also created a Launchpad and a COVID-19 specific Launchpad.
"Its resources were created to help students transition to the university," explained Christine Salvesen Ph.D., Assistant Vice Provost for SSRI and Executive Director of the SSRI Strategy Team at the University of Arizona.
Some of the topics included are how to be a successful student, the importance of asking for help, and why Tucson, Arizona is a great place to live.
"Through these resources and through this launchpad so far this year, it's been accessed more than 10,000 times by 5,000 different students," Salvesen stated.
Their COVID-19 Launchpad focuses more on managing online formats and connecting students with departments virtually. So far, they've had almost 13,000 students log on.
"Our team works collaboratively across the campus to make sure that we are on top of what our students' needs are and how we can come together to quickly create a solution or an initiative that will address them," she explained.
To learn more about their Launchpads, check out this section of the webinar:
Georgia State University
About Georgia State University
Georgia State University is a Metro Atlanta area school that includes a main downtown campus (which includes their baccalaureate graduate programs) and 5 additional campuses around the metropolitan area that offer associate degrees.
They are a minority-serving institution along with being a research one institution. In addition to their 54,000 students across their 6 campuses, they also have 5,000 students living on their downtown Atlanta campus. In March of 2020, like many institutions, they had to transition fully to virtual learning.
Holistic Student Support
One of the first things that Georgia State University did was brushed up on Maslow's Hierarchy of Needs.
"We actually had gotten the official word on March 11th, that as of Friday at 5:00 PM on March 13th, we would have to physically close all of our campuses," explained Dr. Michael L. Sanseviro, Interim Vice President of Georgia State University.
He went on to explain that "So many of our students have food insecurities. We have food pantries on every campus. We have a number of students who face housing insecurities and are homeless at any given time. And so we've really needed to think about how are we going to meet the needs of our most vulnerable students at a time when the services that are so heavily embedded in our in-person experiences will now no longer be available."
Overall, they wanted to look at how to create immediate systems that focus on the holistic student support experience, while also focusing on what needs were most important first.
4 Key Elements to Support Students With Virtual Learning
1. Financial Hardship and Emergency Assistance
One of the things that they did to support their students was quickly created a Financial Hardship and Emergency Assistance Program. This was launched through an advancement and foundation crowdfunding source.
"We didn't know what assistance may or may not be available from other sources like the Cares Act. So we wanted to quickly find a way to get an infusion of as many private funds as we could so that we could meet the needs of all of our students very quickly," stated Sanseviro. "Working with a number of campus partners, we put together an online one-stop-shop application to create a Financial Hardship and Emergency Assistance Portal."
They then worked with counseling and other critical services across the campus so that the students would complete one application and indicate all of the various needs they had. Behind the scenes, they would auto-route that data to the various campus partners and would find the right type of resources to fit the students' unique needs.
2. BeWell: 24/7/365
Simultaneously they also launched a BeWell campaign.
"Because we knew that we were not going to be able to do in-person counseling, we wanted to have an immediate 24 hour a day, seven days a week virtual counseling program available to our students," said Sanseviro.
This is just one way they could make sure they were putting their students first and helping them with what they needed.
3. Academic Support and Advising
The third thing they did was transition their existing academic advising and support services to a fully virtual app. Within two semesters, they were able to have over 65,000 virtual advising appointments, all managed through their app.
4. Panther Connect
The fourth element of their holistic model was what they called "Panther Connect" for newer Georgia State University students.

Sanseviro explained that "instead of it just being a passive resource where students would have to go to the portal and connect to what their interests were, we decided to turn the model around. By linking into our data through the admissions side, from slate, we were feeding all of the co-curricular engagement experiences from high school based on the student's applications."

"We immediately got students pre-enrolled through the orientations experience into co-curricular spaces that simultaneously connected with their academic spaces. That way, they felt the sense of being connected, even though they wouldn't physically be on campus as we were welcoming the new students to the university," he concluded.
To learn more about these four elements they implemented throughout their university and the lessons learned during their implementation, watch this section of the webinar.
Houston Community College
About Houston Community College
Houston Community College is a singularly accredited institution that also has 7 colleges. Overall, that means they have 7 presidents and severing administrative leadership teams at each of those locations with over 22 campuses. They also have 15 centers of excellence, which are focused on workforce training and development programs.
Each year they serve over 100,000 students including the academic workforce, adult education, and continuing education students. Along with that, they had the highest enrollment for international students among community colleges and most 4-year institutions in the country.
Providing for their Virtual Students' Needs
"As we thought through the process for how we would engage students, it's important to know that we're serving students who are largely first-generation college students – many who are from marginalized communities who are underrepresented and underserved," said Shantay Grays Ph.D., Vice Chancellor of Student Services at Houston Community College. "And when you couple that with a global pandemic along with lack of financial and technical resources, we had to make some adjustments very quickly."
Overall, that meant that they had to prepare their staff to provide support to their students in an online environment. Doing that included training and providing a range of options for how they were going to keep students engaged.
But they also had to come up with a plan to be immediately responsive to their students' basic needs. Grays explained that many of their students are "one emergency or one financial crisis away from changing their lives." With that, they recognized the need to be responsive.

Many of their students were also challenged with the lack of technical resources needed to study online. However, Houston Community College offered emergency aid and support to their students through laptop loaner programs as well as emergency technology grants.
Through various grants available, they were able to provide financial support to their students so that they could purchase devices as well as wifi and internet access in their homes.
"We pivoted, we evaluated our current position, determined how effective it was, and then we pivot again," concluded Grays.
Creating a Virtual Lobby to Increase Student Engagement
To increase student engagement and assistance, Houston Community College created a virtual lobby through Zoom and published it on their website. Once clicking on the Zoom link, students were routed to a virtual lobby. From there, they were able to pick which breakout room to enter that best fit their need of assistance. In each breakout room, they were able to receive personal help from a live faculty member. The different breakout rooms included:
Academic advising counseling
Special accommodations for testing
Student life
Career services
Office admissions
International services
Financial aid
Veteran affairs
And more.
"This severed as a one-stop-shop for us and was easily accessible to students with just a click. And the results that we saw were really good," explained Rima Adil, Ed.D., Dean of Student Success at Houston Community College Northwest.
Overall, to make it a success, they hosted about 40 plus trainings over 3 weeks to get everyone on board to launch.
"In about less than 3 months, we went from 160 participants per week to 33,000 participants per week who utilized the lobbies," stated Adil.
To learn more about Houston Community College's Virtual Student Lobby, how it works, and further outcomes, feel free to check out this section of the webinar:
Panel Discussion
This webinar also featured a panel discussion around the following three topics:
What good student engagement practices emerged during the pandemic that you will keep moving forward? Watch Now >>
Share a story from or about a student who expressed that your support during the pandemic really made a difference. Watch Now >>
Knowing what you know now, what would you do differently if you are faced to remotely provide student services again for an extended period of time? Watch Now >>
Continuing to Create Virtual Student Engagement
Creating and executing virtual student engagement is a key part of providing necessary resources and assistance to students. Doing this will not only help in boosting student success, but it will also help in creating student retention.
To learn more, we invite you to view the full webinar or reach out to us with specific questions. For more great on-demand webinars, feel free to check out our webinar page.
---
Note: This blog was created and adapted using the webinar transcript.