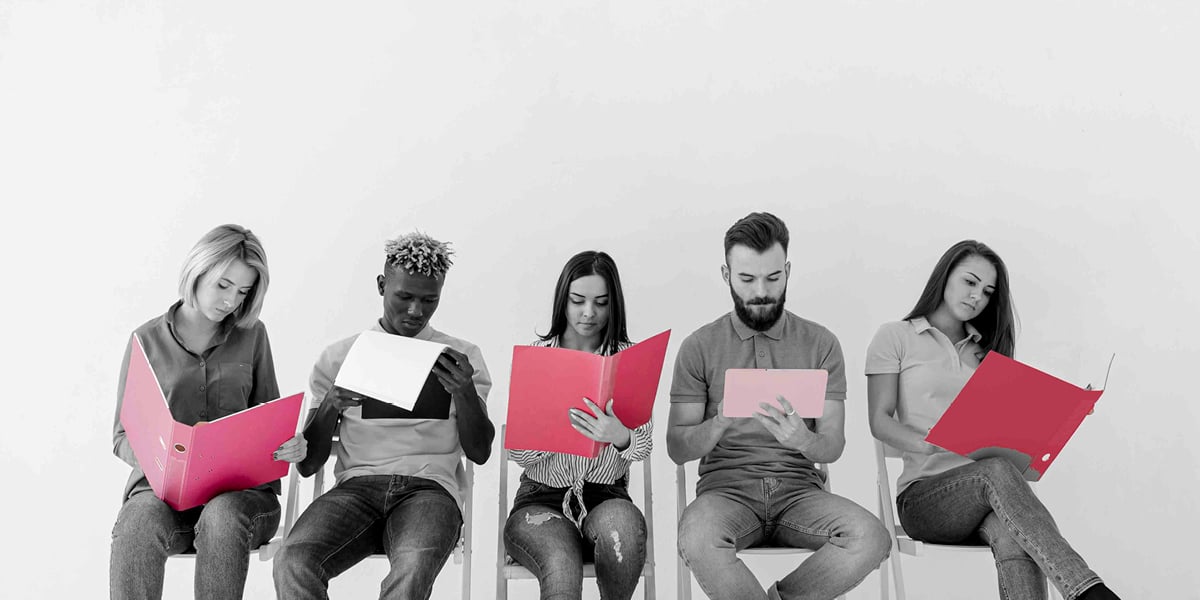 At SmarterServices, we can relate to the Farmers Insurance ads that say "We know a thing or two because we've seen a thing or two."
Over the past 19 years, we have measured levels of learner readiness from about 6 million students. All of this experience has bolstered our confidence in the fact that some students are more ready to learn than others. We have also observed that not only does learner readiness differ individually, but it also differs based on groups of students.
Take a look at this video and blog recap to learn how to foster learner readiness among special student population groups.
Blog Recap
Special Population Groups
To start, it's important to first understand some of the "special populations" or groups of students who, by inclusion in the group, are typically disadvantaged. They can include:
First generation students

Learners with disabilities – physical and emotional

Persons with limited income

Those who have no prior online learning experience

Students who have experienced academic challenges

Those who speak English as a second language,

Various ethnic groups

Gender identity
First Generation College Students
Students for whom no one in their immediate family has enrolled in college are referred to as "first generation college students." While it is widely accepted that one of the best things a person can do to break the cycle of poverty is to receive higher education, the process of doing so can be quite challenging.
As stated by the Clay Center for Young Healthy Minds, "First-generation students often experience guilt over leaving their families and possibly their financial responsibilities at home. Many first-gen students feel bad that they have an opportunity other family members did not have, as well as guilt over feeling as though they are rejecting their past and community. This can also lead to feelings of embarrassment as they consider themselves "imposters" on campus."
With no prior family experience, they may face confusion not knowing how to navigate the resources available to them such as advising, counseling, healthcare, work-study, and internships. Persons in this category may also have prior academic backgrounds that have not adequately prepared them for college-level study. These feelings of insecurity and fear could result in isolation and lack of engagement.
Finally, it is quite common for these learners to come from families with lower income. This may prompt them to take larger loans and/or work more hours in addition to going to school. Data show that financial burdens are the primary reason first-gen students drop out of college.
The STEM Gap
Another example of a population of students that may be disadvantaged in some degree programs is women.
According to the American Association of University Women, females make up only 28% of the workforce in science, technology, engineering, and math – referred to as STEM.
Why is this the case? Some of the key reasons seem to be gender stereotypes, male-dominated cultures, fewer role models, and math anxiety. STEM fields are historically viewed as masculine and starting from early grades girls' abilities in these areas are often underestimated. Because fewer women work in STEM jobs, enrollments in STEM courses are often male-dominated which seems to perpetuate an inflexible, exclusionary culture.
Physical, Mental, and Emotional Disabilities
Just as first generation students, as well as female STEM students, face particular challenges, other special populations have their own battles to face.
While there has been much progress in providing access for persons with physical disabilities, programs at our schools are still in the early stages of understanding and supporting learners with mental and emotional disabilities. As eLearning programs truly grow to have global scope, faculty find themselves teaching more persons for whom English is not their first language.
Finally, due to the pandemic, more persons have studied online than ever before. But the paradigm shift produced by self-directed, technology-mediated learning remains daunting for many students.
How do you know who to help?
I have not described these special populations to discourage you as an educator, but to equip you with a tool and strategies that you can use to identify, diagnose, remediate, and support struggling students.
How can you know early in the student experience who these disadvantaged learners are and how can you come to their support?
Well, that is what we know a thing or two about. The specific purpose of the SmarterMeasure Learning Readiness Indicator is to identify learners along the continuum of readiness, equip them with awareness and resources, and connect them with educators who care.
The SmarterMeasure Learning Readiness Indicator Can Help
The SmarterMeasure Learning Readiness Indicator is an assessment that quantifies learner readiness using non-cognitive indicators. It has been used by over 1,000 higher education institutions and taken by almost six million students. It is the most widely used non-cognitive learning readiness instrument.
The assessment begins by looking at the learner internally. That section is called Individual Attributes and measures factors such as motivation, control over procrastination, willingness to ask for help, locus of control, and time management. We also identify the learner's dominant learning preference which is based on the multiple intelligences model.
After we have looked at the learner internally, then we look at the learner externally in a section called Life Factors. This section measures elements such as availability of time, support from family and employers, having an appropriate place to study, general health, and finances.
Next, the assessment measures several skill sets. We measure on-screen reading rate and recall, technical competency, technical knowledge, LMS competency, and keyboarding rate and accuracy. Finally, in addition to the non-cognitive sections, there are optional cognitive sections in math readiness and writing readiness.
TRIO Student Support Services Funds for SmarterMeasure
Many institutions fund the assessment through a federal student support program called TRIO Student Support Services (SSS), which is a federally funded program designed to improve the retention and graduation rate of first-generation college students, students with disabilities, and/or students with limited income.
TRIO SSS programs offer a variety of services including academic advising, career exploration, transfer planning, education to improve financial and economic literacy, information in applying for Federal Student Aid, assistance with completing the FAFSA, academic tutoring, success planning, peer mentoring, and more.
Over the years, many institutions have funded the use of the SmarterMeasure Learning Readiness Indicator with TRIO funds. Logos from some of those institutions are included below.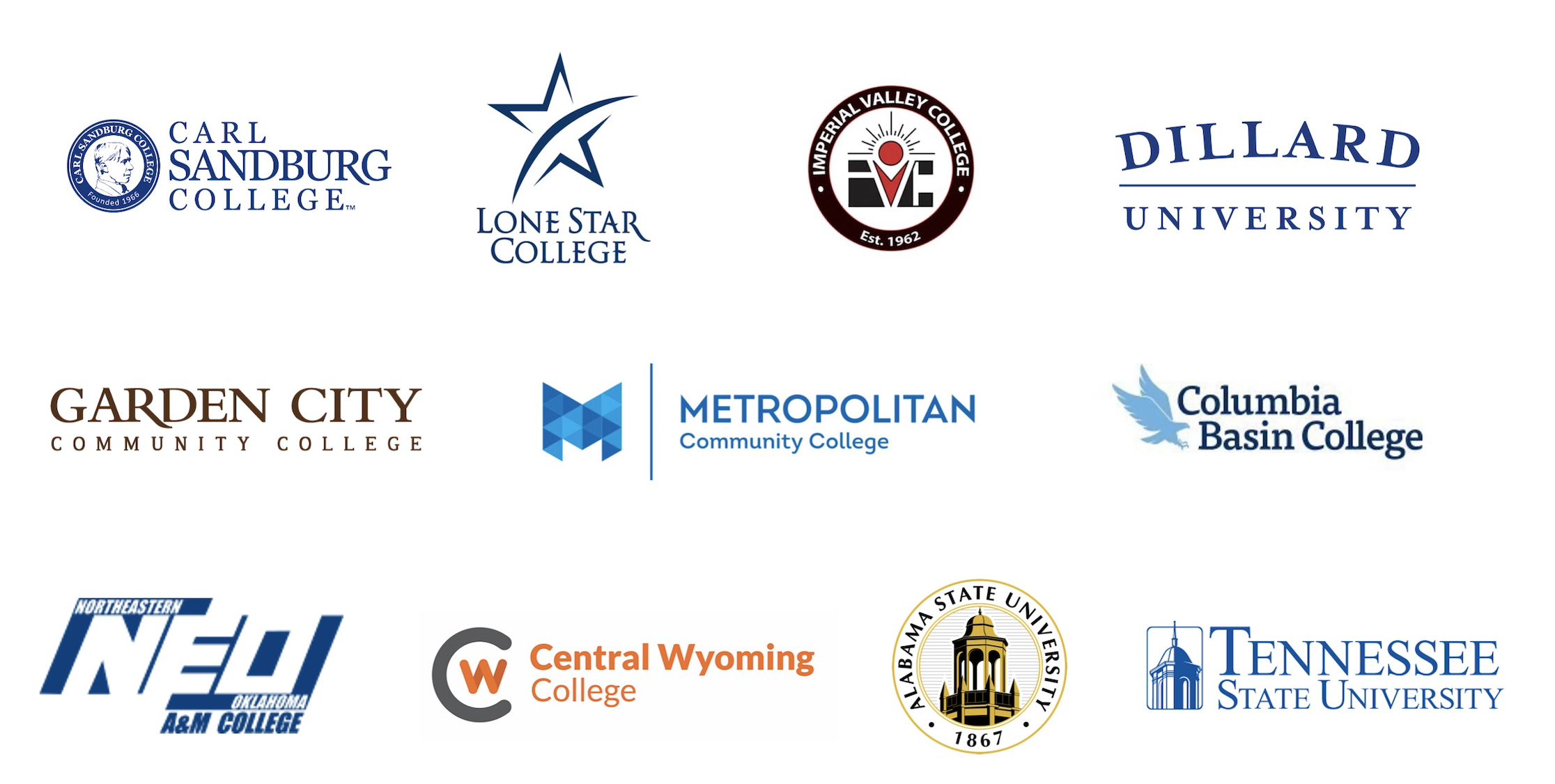 One caveat is that TRIO funds can only be used by students in TRIO programs. So, when an institution desires to use the assessment across the full student population, they will need to supplement the TRIO funds with other institutional funds.
On-Demand Webinar: Measuring Learning Readiness for TRIO Students
Included in our archive of prior webinars, is one in which two of these institutions, Carl Sandburg College and Garden City Community College, shared best practices they are using while utilizing SmarterMeasure with their TRIO students.
These schools reflected on the fact that non-cognitive attributes and skills are especially important to disadvantaged students. A good practice is to develop a specific plan to map the resources provided by the institution to the low areas of readiness to help close the gap for these students. It is also insightful to compare readiness and performance levels of disadvantaged students to their peer learners. It was also pointed out that using the custom question feature of SmarterMeasure students can indicate any special student populations to which they may belong.
Start Fostering Learner Readiness Among Your Institutions Special Student Populations
I trust that this blog has heightened your awareness of the need to assist students in special, disadvantaged populations in recognizing their strengths and opportunities for improvement.
We are eager to demonstrate to you how you can customize the assessment deployment and view the dashboard to learn about trends among your students. To learn more about how SmarterMeasure can help or to schedule a demo of the system, click here.