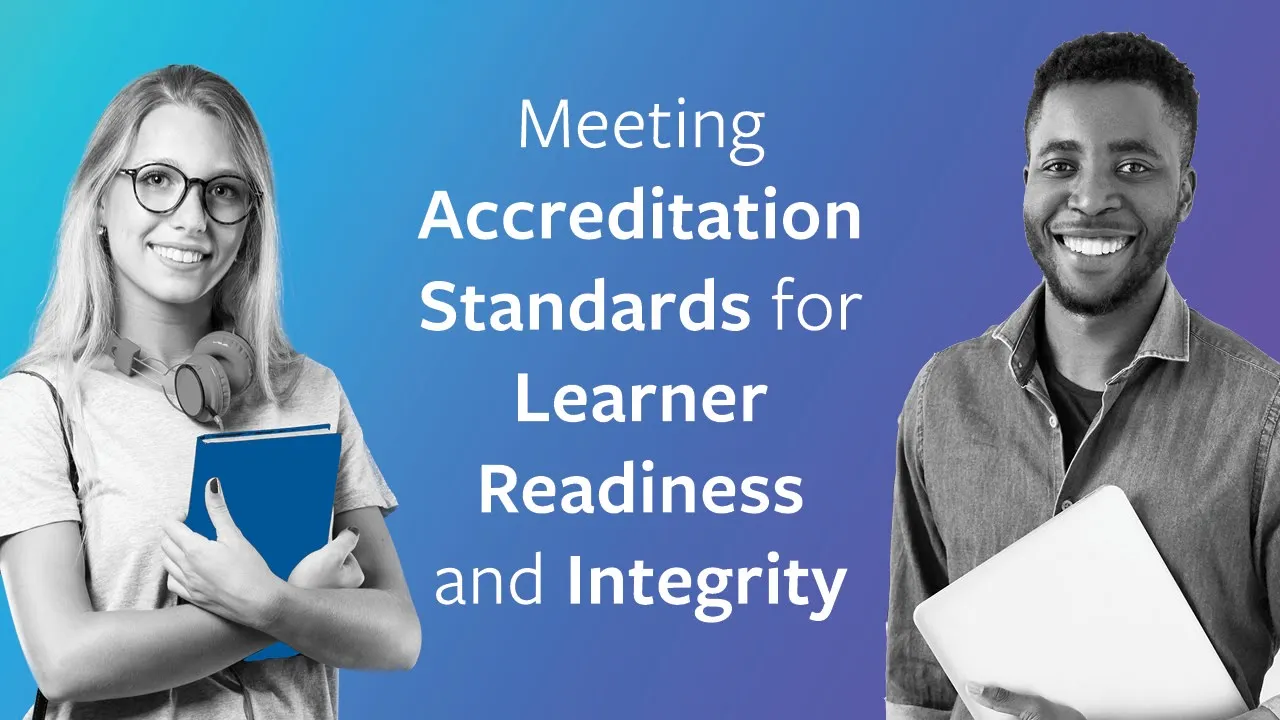 Many educators are motivated by a desire to help learners improve their lives and the lives of their families by continuing their education.
We recognize that higher education is one of the best ways to break the cycle of poverty which can improve entire communities. But the desire to do a good thing is not enough to get it done since all students don't have sufficient preparation and serving these at-risk students is challenging.
Educators and student services professionals quickly realize that tools and techniques are needed to identify and support at-risk learners. We are also propelled by the fact that not only should we serve students, but accreditors require that we document how we identify and assist at-risk students.
In this on-demand webinar, Dr. Doug Wymer of Southeastern Accreditation Consultants and Dr. Mac Adkins of SmarterServices share insights, tools, data, and reflections on how schools are measuring learner readiness, fostering academic integrity, and documenting their good practices to meet accreditation standards.
Take a look at the webinar recording below or continue reading to review the webinar blog recap.
Resources from the webinar:
3 Truths Learned Over the Decades of Being an Educator
Over the years of being an educator, there are 3 truths that we have discovered.
1. Online learning is a better fit for some than others.
Sometimes this is based on elements out of a student's control. like traits, attributes, skills, personality, procrastination, willingness to ask for help, and many others.
2. Most students are willing to do as little as possible to finish the course.
This mentality is at the core of the problem of academic integrity. They are not adequately prepared, which can prompt cheating in tests and other areas within the course.
However, proctoring fosters integrity. To keep students honest and to show honest results, institutions need to be proctoring during tests or exams.
3. Like students, schools also do as little as required.
Just like students, schools, institutions, and colleges like to slip by with as little administrative burden as they can. Accreditation and documenting work the same way as proctoring does for students. Accreditation keeps schools honest.
Learner Authentication and Academic Integrity
How do you identify that a student is truly doing the work for the course, and not someone else? Let's begin by talking about federal authentication to ensure that the student registered in the course is the one doing the work.
Federal Authentication
In order to meet federal authentication regulations, all accreditors require that you have something in place to identify students and verify that the right student is doing the work.
At minimum, each student should have a unique username and password. But is that enough? All too often, it can be easy to share usernames and passwords with others. So, the next step we look into is doing things in a proper environment, like a proctored environment. Some institutions have a requirement where there's at least one proctored exam or assignment. Writing intensive courses can also fit this requirement.
But what are the consequences of insufficient identity verification? Dr. Wymer would argue that the consequence is dilution — dilution of student learning, outcomes, attainment, or compromising of the integrity of the student's achievement data.
When you're looking at student learning outcomes, you assess them in a course with an assignment. That could happen to be an online class where maybe the students are skating the line or they're over the line from an integrity standpoint. Now, you've got data that says everybody has achieved the standard — but maybe they didn't.
So then it's important to look at student achievement measures like retention, persistence, and completion.
Proctoring is NOT One-Size-Fits-All
Proctoring is one way of ensuring academic integrity and a way to validate the student in the course who is mastering the content.
SmarterProctoring has many different options when it comes to proctoring a course. Check out the options below: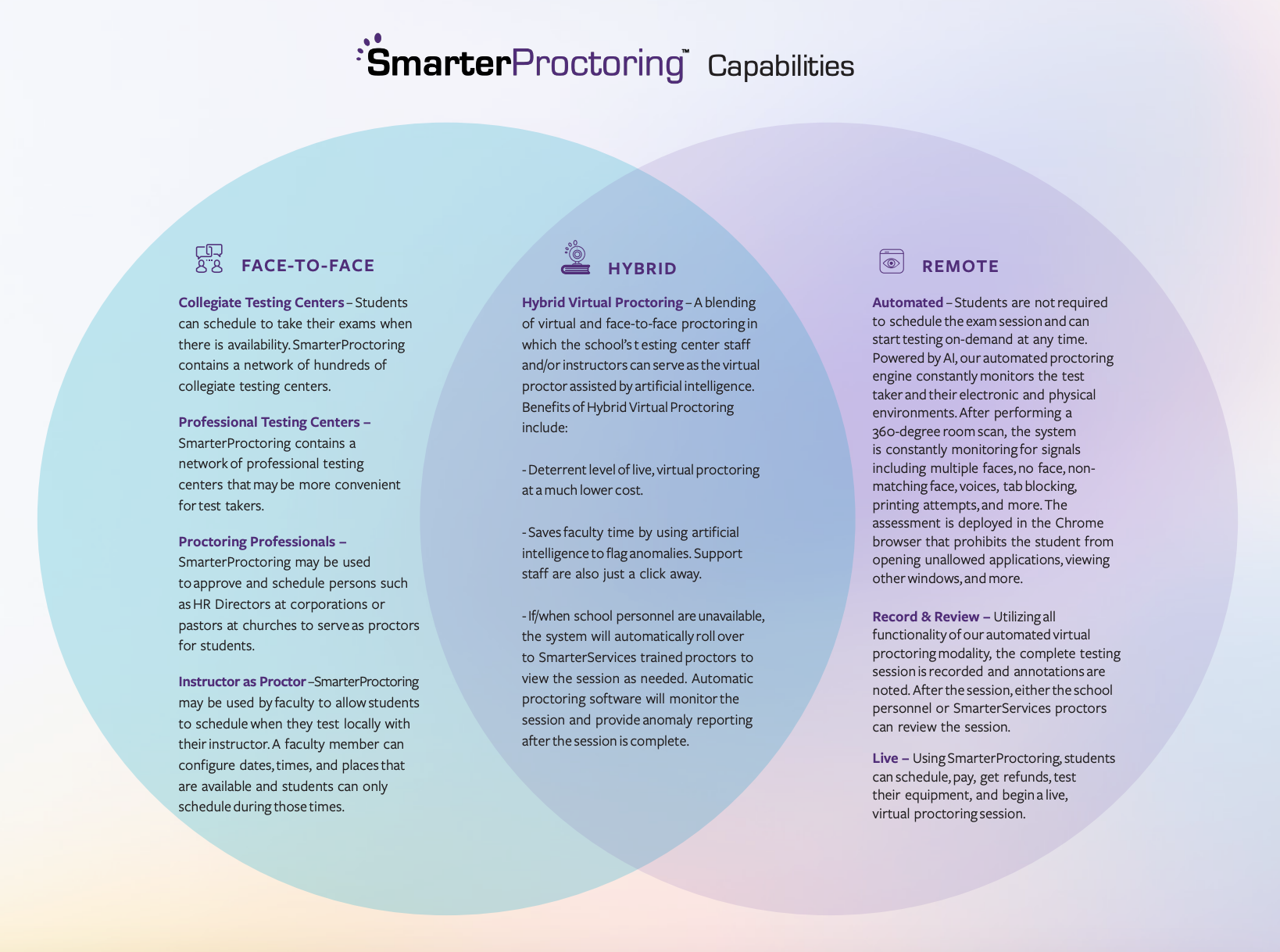 Some students may not want to share their home environment during authentication or they do not have a strong internet. Giving students options can help increase their satisfaction with the course.
Another factor is the neuro-diverse student population and students with disabilities. They may need a different type of proctoring or special accommodation.
Proctoring cannot be one-size-fits-all because every student is different and every situation is different. With more proctoring options, students have more choices.
Fostering Academic Integrity
In 1940, only 20% of college students admitted to cheating. Today, it has increased to almost 75-90% of students. A study done in 2015 by Dr. Donald McCabe involving over 70,000 students over 12 years (2022-2015) showed that 95% of students cheated in some form.
However, cheating no longer carries the stigma of "disapproval" as it used. Students are willing to do whatever it takes to keep their GPA up, keep their parents happy, or stay in a social club. The end is really what's important to the student, not the learning that takes place along the way.
But here is what's really concerning — that same study found that only 35% of college officials (including faculty members) believed that cheating was a problem. When compared to the general public's opinion, 41% believed that cheating was a problem.
Why is that? Dr. Adkins speculates that faculty members are concerned, but the administrative burden placed on them is overwhelming. Many instructors don't have time or even the desire to review exam video recordings. Many also don't want to take the time to schedule exams or help students find proctoring centers. In addition, many schools have internal paperwork or spreadsheets that require time and effort to complete as well.
We surveyed students right after they had taken an exam and asked them to label different proctoring modalities by the level of psychological deterrent. Here's what we found: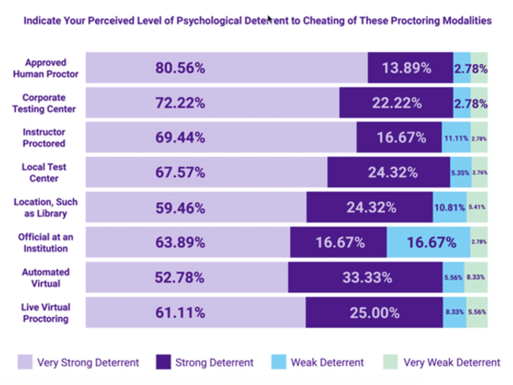 Students said that proctoring with an approved human proctor was the strongest deterrent from cheating. Corporate testing centers came in second, and having an instructor as a proctor came in third.
If we want to do a good job as an organization to foster integrity, we need to provide a testing environment where students can demonstrate their competency in a way that adds validity to it. Then we need to monitor it — and we need to do that through proctoring.
But we don't need to make students proctor all the same way. We need to give them proctoring choices of testing virtual, face-to-face, and hybrid.
Fostering Retention
We've talked a lot about learning authentication and testing integrity. Now, let's talk about fostering retention.
We all know that the COVID-19 pandemic has changed our society fundamentally, and it's going to take years, if not decades, to get over that.
In November of 2020, 85% of students said that the pandemic was making it hard for them to learn. 71% of educators agreed and said that the pandemic was really hurting their students.
That affected the retention rate during the pandemic. Take a look at the stats below.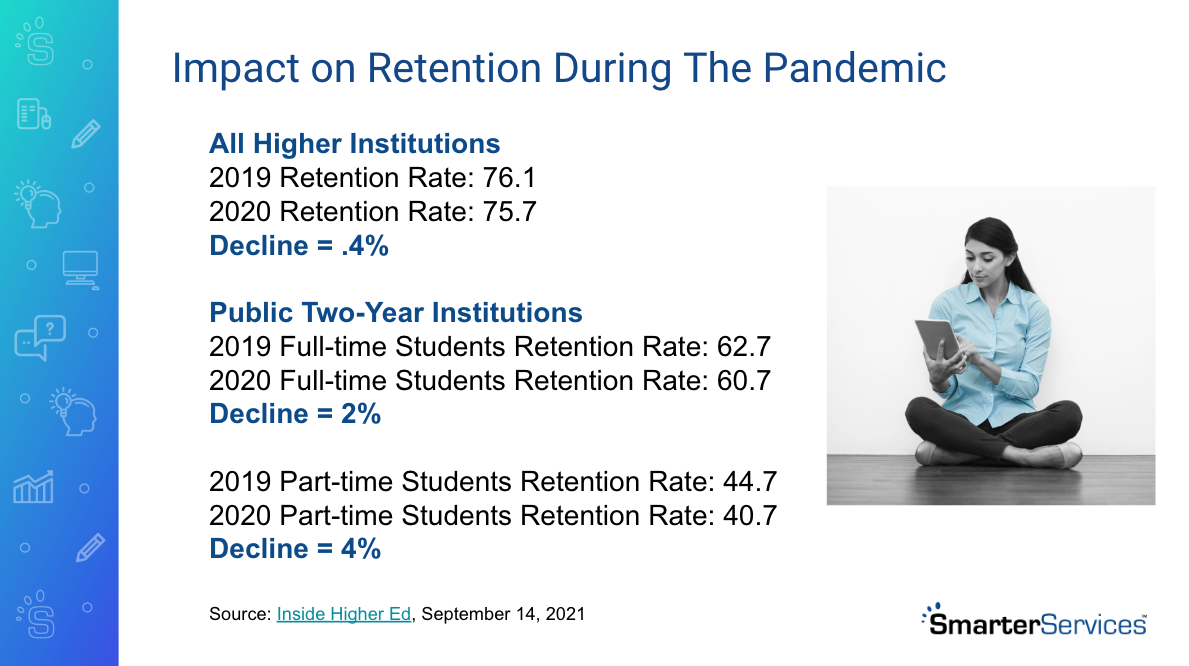 You might be wondering, now that we're moving out of the pandemic, is retention getting better?
In June of 2022, the National Student Clearinghouse stated "75% of students who started college in the first fall of the COVID-19 pandemic returned for their second year. This persistence rate represents a one-year increase of 1.1 percentage points but has yet to recover to the pre-pandemic level in this important early student success indicator."
A big part of retention is student readiness when entering college. Most students don't come in prepared with the level of reading, writing, and math skills needed.
So, institutions often build elaborate scaffolds around them. Developmental coursework, remedial coursework, or co-requisite coursework often act as college level gateways to help these students be successful.
But what we typically don't look at is if the students are ready for every type of institutional learning environment that we give them.
Students are used to being in class and having faculty talk at them for years. But maybe they're not used to an online learning environment. As an institution, It's important to prepare students not only for math, writing, and reading, but also for online learning as well.
How Can Non-Cognitive Data be Used to Improve Retention?
Before we dive into that understand how non-cognitive data can be used to improve retention, we must understand why so many students drop out.
Why do so many students drop out?
A study funded by Bill and Melinda Gates Foundation ranked these reasons why students drop out:
Conflict with work schedule
Affordability of tuition
Lack of family support - financially and practically
Lack of belief that a college degree is valuable
Lack of discipline — too much socializing, not enough studying
When you think about all of those things, these are all non-cognitive reasons.
If it's true that non-cognitive factors are the reasons why a lot of students don't enroll or why they are frustrated at their experience while they're enrolled, then doesn't that stand the reason that we need to be measuring and responding to non-cognitive factors?
What do we mean by non-cognitive factors? You may think of it under the umbrella title of "Soft Skills" such as:
Initiative
Confidence
Trust
Integrity
Discipline
Creativity
Maturity
Ethics
Worry
Motivation
Measuring these soft skills is important. But what's more important than just measuring it is taking action on the data.
Measuring is Important, but Taking Action Based on the Data is What will Impact Retention
What can help you take action on the data behind the non-cognitive skills your students have? The SmarterMeasure Learning Readiness Indicator is the leading assessment tool based on non-cognitive indicators of success. It's been around since 2002 and has been taken by over 6 million students.
SmarterMeasure studies both the student's internal and external factors and skills such as the following:
Internal Attributes:
Motivation
Control over procrastination
Willingness to ask for help
Locus of control
Time management
Persistence
Academic attributes
Learning preferences
External Attributes:
Availability of time
Support from family or employers
Appropriate space for studying
Health
Finances
Skills:
Reading
Technical competency
LMS competency
Technical Knowledge
Keyboarding skills
Other:
Math readiness
Writing readiness
Student resource inventory
There are many ways that schools can use the data from this assessment including the following:
Optic – A lens through which students can view their strengths and opportunities for improvement
Student Service – Guide students toward available resources for support
Placement – Developmental / remedial course placement
Talking Points – A collection of statements which academic advisors can use to advise their students
Early Alert – A list of students who are likely to be benefitted by the instructor reaching out to them early in the course.
Predictive Analytic – A set of data which can be analyzed at the individual and aggregate level to project student performance
Based on this assessment, educators or counselors can help the student succeed in areas from placement in classes to study habits. SmarterMeasure can also be implemented anywhere in the student's journey within the institution, but is most commonly seen at the beginning of a course or school year through the orientation process.
Let's Continue Learning
Want to learn more about how your institution can meet accreditation standards for learner readiness and integrity? Check out the full webinar below!
For more information about Southeastern Accreditation Consultants, click here.
For more information about SmarterProctoring, click here.
For more information about SmarterMeasure, click here.