What makes an effective learning experience?
The pandemic presented us with a grand experiment that has tested our core assumptions about what makes for an effective learning experience. With the swift and massive shift toward tech-enabled learning, we've learned a great deal about what factors contribute to an effective learning experience, and which introduce friction.
Recently, we hosted a webinar with Dr. Omid Fotuhi, Director of College Innovation Network at Western Governors University where he presented research findings that reveal powerful patterns of experiences for first-gen and non-first-gen students, as well as the critical skills needed to succeed in the new landscape of tech-based education.
Take a look at the on-demand webinar below or continue reading to review the webinar blog recap.
Resources from the Webinar:
Webinar Recap
What is EdTech Self-Efficacy?
At the start of the COVID-19 pandemic when education began to convert to remote learning, Dr. Omid Fotuhi and WGU Labs began several research collaborations and projects. With that, there were a lot of conversations around the digital divide and its likely negative impact on particular groups of students.
Over the past two years, they've learned that while there are still facets of inequality, those look quite different based on data than what we might have predicted. With that, there's an important nuance, especially when interacting with technology.
They also found a key insight in their work that had been developed for several years with lead researcher, Dr. Nicole Barbaro.
"The key insight that we have been thinking about has to do with a concept and a construct that we were testing for and measuring for. We thought it would be an interesting complement to some of the other facets related to how students interact with technology, but in reality, it ended up being a core determinant of students' experiences. And that is what we're calling 'EdTech Self-Efficacy,'" explained Dr. Fotuhi.
EdTech Self-Efficacy is defined as a student's confidence in their ability to learn and adapt to technology in the classroom.
If you're familiar with the Growth Mindset Principle — the set of beliefs that people have about the nature of their own intelligence and the nature of their own ability — having a growth mindset and believing that you can acquire new abilities and strength in your intelligence has a series of very predictable positive outcomes. WGU's research found similar kinds of patterns with this EdTech mindset that they had been conducting for the past few years.
The Research
This research was conducted with the College Innovation Network at WGU Labs. The College Innovation Network is a fully funded research collaboration that was established in 2019.
"We were in full-scale implementation at the very beginning of the pandemic. And, in the time that we've been doing this work, we've worked with well over a dozen higher ed institutions — ten of which have consistently done some research with us, especially around tech surveys. Collectively, those schools represent close to a quarter million college students around the nation," said Dr. Fotuhi.
Overall, the College Innovation Network is an intentional approach to understanding what students' evolving needs are as it relates to technology, what forces help to influence both impact and the sourcing and implementation of relevant technologies, and how one can evaluate those technologies in a meaningful way.
"The EdTech surveys that we've conducted were really born to try to capture the full series of experiences from as many perspectives as we could. We could garner to understand how technology impacts student learning in the current landscape," stated Dr. Fotuhi.
Surveying Students
In their first survey, they had a good participation rate with a high level of diverse students.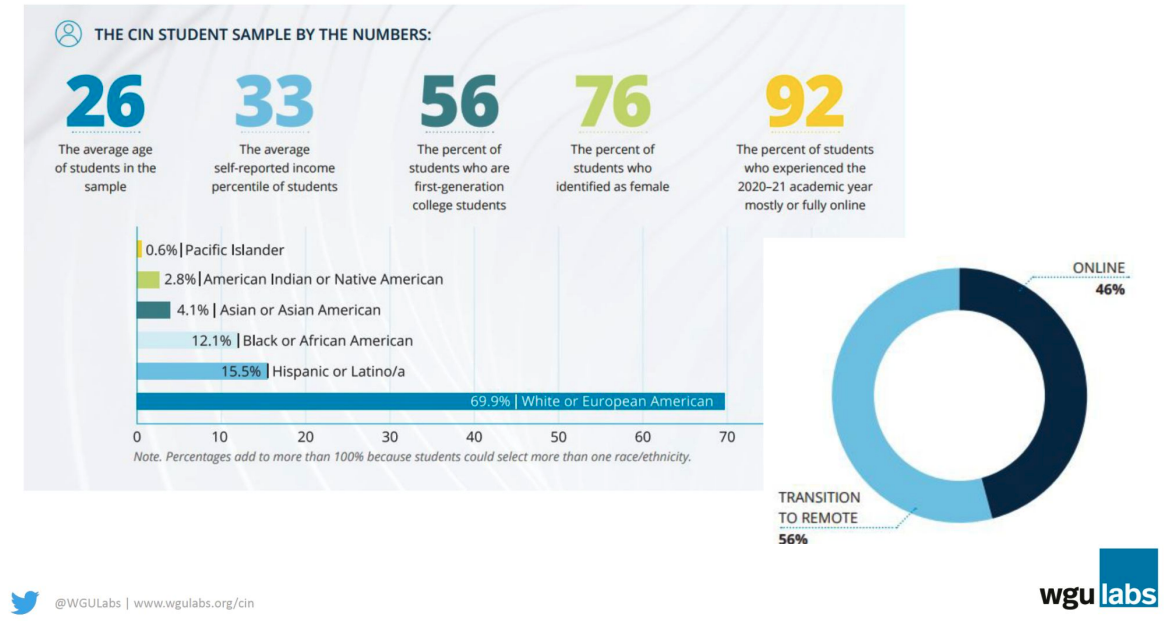 In their survey, one of the things they wanted to do was compare how different kinds of institutions can continue to serve their students and the impact that the pandemic had on these students in the face of remote learning.
From their findings, 20% of the students reported struggling in some way to learn how to use their new technology within their courses. While 33% reported that it was difficult to keep up with all of the new technology in their courses.
"There seems to be an endless flow of new technological solutions that we're bombarding faculty and students with to be able to adapt and adopt in a very quick manner. What we haven't been thinking about is, how is the experience of being confronted with all of these technologies actually impacting student experiences?" explained Dr. Fotuhi.
Their EdTech surveys aimed to figure that out.
"What we found, unfortunately, is that students did seem to struggle and that those who struggled the most reported the greatest levels of challenging difficulty (again, this notion of EdTech Self Efficacy) also has a series of negative outcomes. So if you struggle to learn how to use that tech, you are less likely to report that the technology has the potential to enhance your learning experience," Dr. Fotuhi said.
Overall, the research found that students who report that they struggled to learn how to use EdTech in their courses were also…
… less likely to report that they are learning the course material effectively in an online learning environment.
… more likely to report that they feel less connected to their peers in an online learning environment
… more likely to report that they would consider not enrolling for 2021-22 if their courses were to be fully online.
In the webinar, Dr. Fotuhi explained,
The difficulty in managing and navigating the technology in front of you became the filter through which you experience your academic and social experiences, because everything is funneled to those channels.
What we realize is that unless you're able to understand and recognize and invest in those channels, you might actually be filtering out access to many students who otherwise should be benefiting from a learning experience.
That being said, we actually found some pretty powerful differences in these outcomes based on whether the institutions that the students were part of were either designed for online instruction, or whether they had to make a makeshift approach to adapting to the online environment.
Below, you'll see information regarding students at institutions that specialize in online instruction report better learning experiences with EdTech.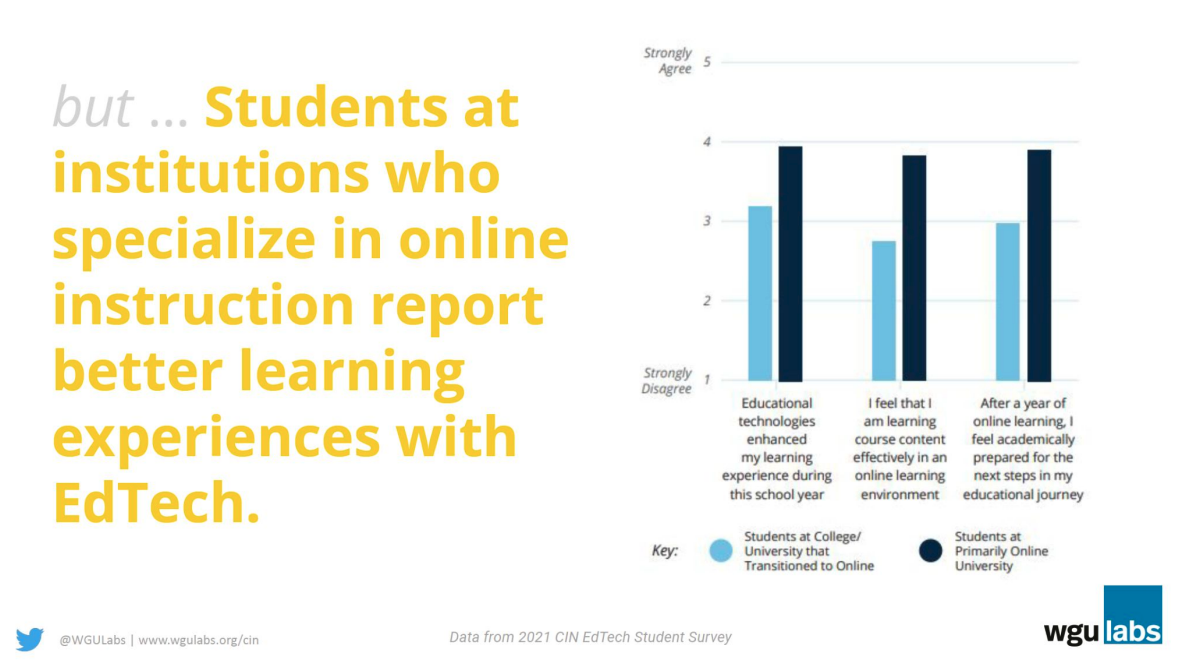 Surveying Faculty Members
"It's important to know that in our work and speaking with students, we realize that much of their experience was largely informed from whatever decisions the faculty we're making about which technologies to implement. So what we did on our second year of our program was begin surveying the faculty across the College Innovation Network institutions," acknowledged Dr. Fotuhi.
This second survey asked similar questions to the first, however, they also wanted to know what factors determine faculty decisions about which technologies to implement, what their perceptions were, and what influences their experiences with regards to their level of support from the administration. With this survey, they received 402 faculty respondents from 8 teaching institutions.
"What we ended up hearing from faculty is that they too struggled to integrate technologies into the courses. What's interesting is we have similar levels of challenges as the students," stated Dr. Fotuhi. "There also was, interestingly enough, varying levels of confidence in their own abilities to teach in an online environment."
➡️ Click here to listen to the full results.
What can we do to help close the new digital divide?
Dr. Fotuhi gives several recommendations for both faculty members and administrators.
For Faculty:
Understand your students' experiences with EdTech

Survey students at the beginning of the course.
Know what access issues your students have.
Address concerns or gaps early.
Start with low-stakes tech-based assignments to build skills early.

Address the dual learning of EdTech and course content

Integrate EdTech learning into your course design.
Have variable options for students with access issues or different levels of experience.
Provide feedback early and often.
Be proactive about tech learning.
For Admins and Leaders:
Provide faculty support for using EdTech in enhancing and innovative ways

Create systems of support for faculty to share new insights.
Promote a culture of teaching innovation and collaboration.
Provide both time and training for faculty to use EdTech.

Give faculty a voice in EdTech decisions and listen to what they need

EdTech decisions are made by admin, but faculty are using it.
Create a culture of learning from faculty about their EdTech needs.
Annual surveys of faculty to identify needs and gaps.
More details from the College Innovation Network findings can be downloaded for free by clicking here.
Let's Continue Learning
Learn more about how your institution can cultivate an effective learning experience and check out the bonus questions and answers that were talked about by viewing the full webinar here. For more information on how to get started, click here to reach out to us.